Tuomas Korkalo created a mural in the Art Town Mänttä-Vilppula
Visual artist Tuomas Korkalo (b. 1978) created a mural in Mänttä-Vilppula related to the Art Wall project. During May, the artist painted his abstract work, which consists of different colored surfaces, at the end of an apartment building called Mäntylinna along the entrance road leading to the center of Mänttä.The Art Wall is a joint project of the Serlachius Residency, the Art Town Mänttä-Vilppula and Asunto Oy Mänttä Mäntylinna, which started more than a year ago. A total of 129 applications were received for the project from 28 countries.
The panel of experts of the Serlachius residency selected two of the proposals, of which the board of the housing association approved Tuomas Korkalo's proposal for implementation. 
 Composition for Mäntylinna
During the spring, Tuomas Korkalo from Rovaniemi created a geometric and thoughtful airy mural with the working name Composition for Mäntylinna . The painting creates an interesting impression of depth at the end of an apartment building completed in the 1950s.
According to the artist, Mäntylinna was an inspiring object for which he wanted to design a mural that respects the spirit of the house and the architecture of the era. He says he has worked for the last five years mainly on abstract themes, so the topic seemed natural.
"The starting point of the painting was form, rhythm and color in the space. With the composition, I wanted to make an illusion of space and lightness on a flat wall - a space with movement and airiness. I think the abstract form is time and gaze resistant. Although the composition is based on perspectives, there are small 'hints' within the forms that create perhaps a bit of a surreal vibe, "he says.
Environmental art is familiar to Tuomas Korkalo, but he has never done such a large mural. The end wall of Mäntylinna is 11 meters wide and has a ridge height of 13.5 meters. The painting covers only part of the wall.
Tuomas Korkalo lived in the Serlachius Residency during his painting work. Korkalo exhibition is on display in the Residency Gallery in the center of Mänttä from 2 June to 29 August. from Wednesday to Sunday from 12 noon to 6 pm. In the gallery you can also get acquainted with the plans for mural painting and the progress of the artist's work.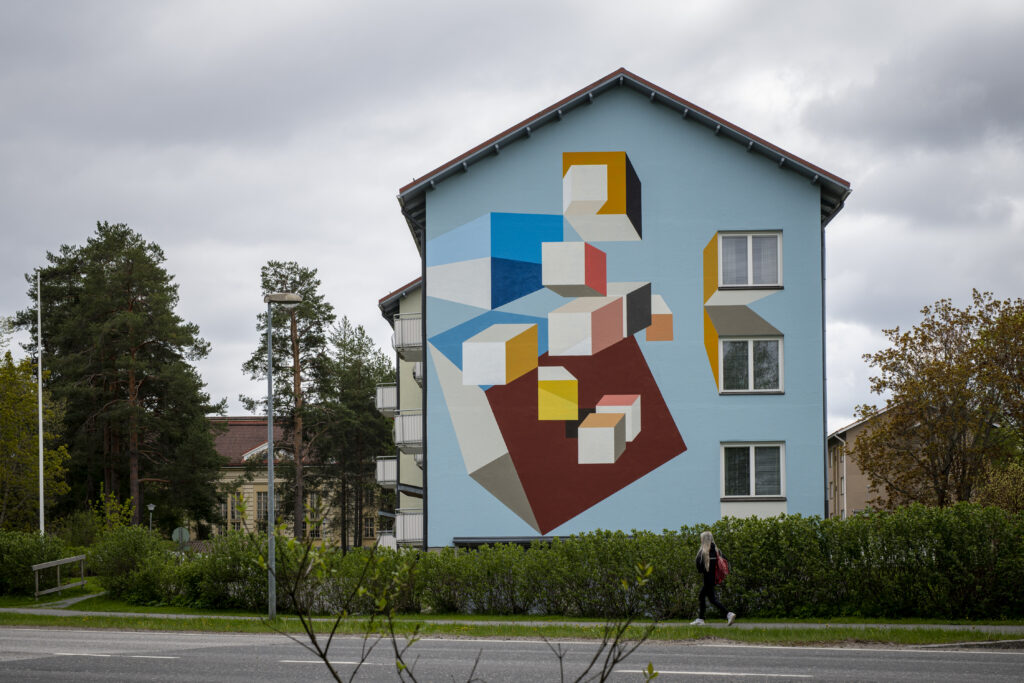 For further information, please contact:
Laura Kuurne, Head of Collections and Exhibitions, tel. 044 269 6677, laura.kuurne@serlachius.fi
Antti Korkka, Director of Culture of Mänttä-Vilppula, tel. 040 834 6676, antti.korkka@taidekaupunki.fi
For further information, please contact: 
Residency Coordinator Anita Hannunen
tel. +358 44 342 2266