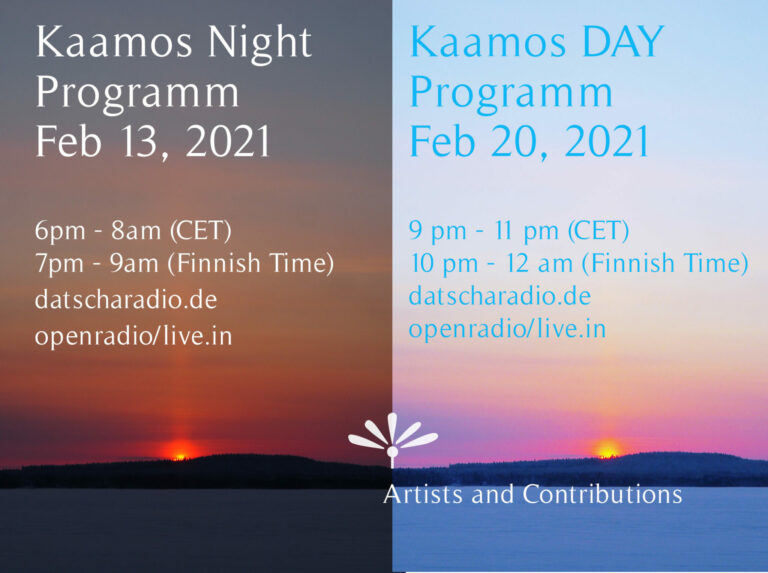 KAAMOS RADIO
The term 'Kaamos' refers to the lightless period of the year (above the 60th latitude) when the sun lingers below the horizon. Kaamos is the time of darkness, of stillness and quietude and of the arctic light, a time of storytelling, contemplation and of taking a rest. A Sami legend tells us of the 'Nest days', because it was believed that the sun rests like an egg in its nest during that time. 'Kaamos' also stands for a mental state that is difficult to endure and is also used synonymously for winter depression in Finnish culture.
LOCATION
The town of Mänttä-Vilppula is located approximatly 180 km northeast of Tampere, on the shores of Lake Melasjärvi. It is surrounded by a sparsely populated landscape made up of forests, lakes and rivers. Temperatures in January and February go from – 20 to -2 degrees Celsius. Northern lights occur at times.
KAAMOS RADIO
tracks both the phenomenon and variations of inner states of kaamos and winter. 
LIVE-STREAM
Broadcastig
Night Programm Feb 13
DAY program Feb 20 10 am–midnight 
You'll find a list of all participating artists on the datscharadio website in due time.
COPYRIGHTS
Kaamos Radio is a non-commercial art and culture project. The copyright for all submitted files remains with the artists. The legal model is the Creative Commons License (see http://creativecommons.org/learn/licenses). https://creativecommons.fi/lisenssit/).
KAAMOS RADIO CAN BE HEARD ON
datscharadio.de
openradio.in
in collaboration with other radio stations and projects (if interested, please, let me know) CONTACT kaamos@datscharadio.de www.datscharadio.de kaamos@datscharadio.de)